The top 5 words that come to my mind when someone mentions the word "blanket" are:
"Warm"
Ukrainian Tiles
by Margery Winter, knit with Red Heart Soft Wine and Gold.
A Christmas gift for my Mama, my sisters call it the Gryffindor blanket.
"Colorful"
Melody Jo
in Knit Picks
Comfy Sport
A gift for my friend Lesley's little angel, Melody.
"Cozy"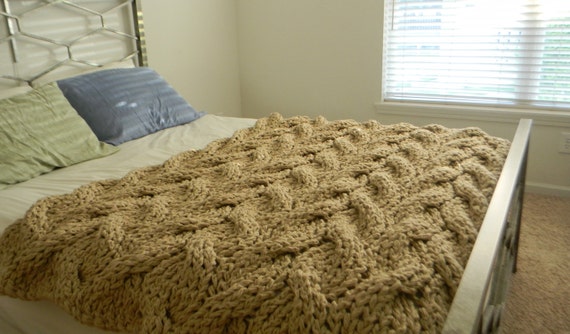 Lost in you
pattern by
Lucky Hanks
on Etsy
Must knit this. Going to go get yarn for this.
"Safe"
Quickie Blanket
from Big Box Detox
The color changes in this blanket really make it stand out, it is so very pretty!
"Durable"
Double Seed Stitch Blanket
from The Purl Bee
Ahh, The Purl Bee, how I love your patterns. Double moss stitching and neutral coloring all wrapped up in a blanket, what a beautiful combination.
I would add as a 6th blanket description, the word companion. Curling up under a blanket, with a cup of tea and a good book/my knitting is a fabulous use of my time. Currently, I am making Martin Storey's
Shetland Knee Rug
from
Scottish Knits
. I meant it to be a birthday gift in June, obviously that didn't happen, it will be done for Christmas (hopefully).
*BWM*